Tile has come a long way in the past few years. The concept of textured tile has grown to incorporate all types of materials – ceramic, porcelain, wood, stone and glass, and all types of looks. With textures that range from soft fabric to dramatic sculpture, textured tile can add unique style to any room in your home. Come to our showroom to see (and feel – your first instinct will be to reach out and touch them!) the wide variety of these tiles for yourself.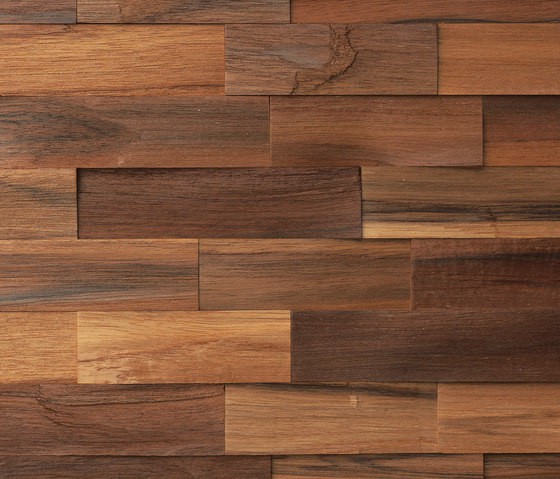 Textured Tile: Wood
The introduction of wood-look tile a few years ago gave designers the ability to incorporate the beauty of wood into places where it had never gone before, including kitchen backsplashes and shower walls. As manufacturers expand their wood-look tile offerings, options include every color and species of wood imaginable. Beyond that, tile manufacturers are actually making "tiles" made out of real wood to be used in interior applications. The wood tile pictured to the left is just one example of wood offered by the tile company Dune Ceramica, and it is made of 30 x 30 squares of teak wood that fit together to create the look.
Textured Tile: Fabric
Tile takes on a softer look when it emulates fabrics such as linen, wool, tweed and damask. The kitchen backsplash pictured to the right (in our KBF showroom) is a damask patterned, subtly textured tile. The look is as beautiful as it is practical: the tile cleans easily and given its large size (10″ x 30″ per tile – not the typical size used in a kitchen backsplash application), it has minimal grout lines. Clients who visit our showroom are often drawn to feel it to try to figure out what material it is, commonly mistaking it for wallpaper. The softness of the look is in contrast to what we have come to expect from the otherwise hard and durable surface of tile.
Textured Tile: Stacked Stone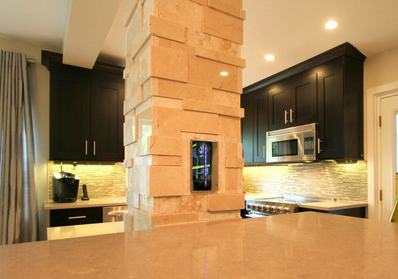 Tile that imitates the look of stacked stone is also a gorgeous design option. Here, KBF used it to finish a column in a transitional-style kitchen remodel in downtown Orlando. The depth of the tile application plays with light and shadow and is the focal point of the two-tier island. Other uses for stacked stone tile include feature walls and fireplaces. Depending on the stone, the look of stacked stone tile can run from rustic to contemporary, and everything in between!
Textured Tile: Sculptural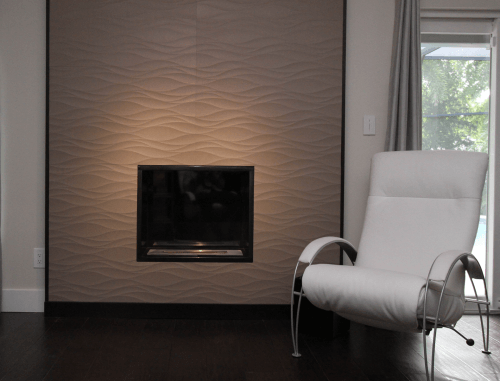 Sculptural tile can range from the soft waves used on this fireplace remodeled by KBF, to the ultimate in drama, where pronounced texture takes the play of light and shadow to the extreme. Tile designers are letting their imaginations run wild by adding depth and dimension to their tile lines, creating looks that are strikingly bold. These sculptural tiles weave, crimp, wave, bubble, undulate and create rhythms like never seen before. If you are looking to add make a dramatic design statement, a sculptural tile might be just the thing to give your home a unique focal point.