One of the main decisions in any kitchen remodel or bath remodel is cabinet selection. The possibilities are almost endless when you consider the variety of materials, colors, finishes, door styles, sizes, etc. But there is another major choice you will have to make – you will have to choose whether you want overlay or inset cabinets. Did you know there was a difference?
Overlay cabinets are probably the type that you are most familiar with, as they are very popular in today's homes. When the doors and drawers are closed on full overlay cabinets, the only thing that is visible is the door or drawer front; you do not see any of the "framework" of the cabinets or the hinges. (Cabinets come in both partial and full overlay; the type we use most are full overlay as they offer the most storage space and are typically most aesthetically pleasing.) Overlay cabinets and drawers offer advantages in storage space over inset cabinets, as the interior box of the cabinet and drawer is larger than that of inset. Here are examples of full overlay cabinets and drawers in both a kitchen and a bathroom remodel:
Full Overlay Cabinets and Drawers in a Kitchen Remodel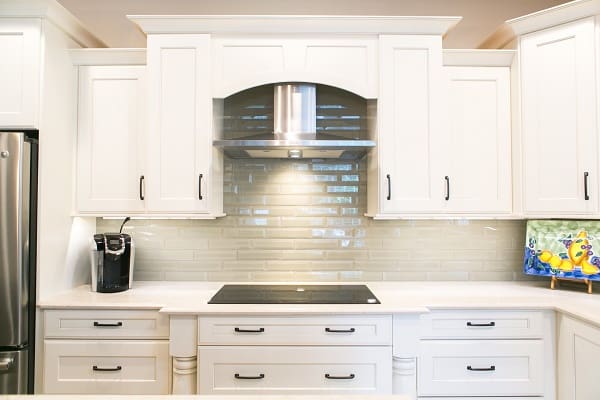 Full Overlay Cabinets and Drawers in a Bathroom Remodel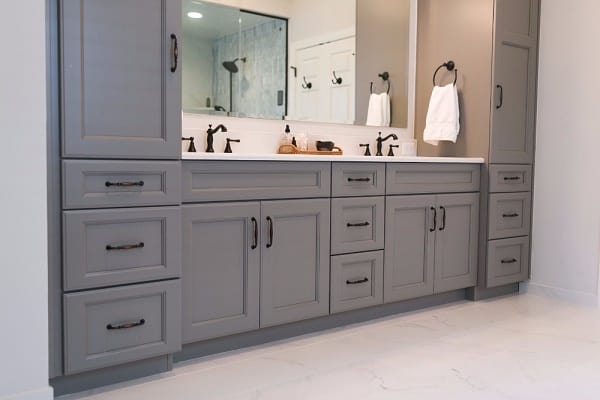 Inset cabinets are less common in most homes today, but are an option you should consider when remodeling your kitchen or bathroom. Unlike full-overlay cabinets, where you only see the door or drawer front when closed, inset cabinets show the actual frame as part of the cabinet run. The hinges can either be concealed or exposed, depending on your preference. Although inset cabinets offer less storage space, they do give a more "furniture-like" look to cabinets. If you don't want to sacrifice storage in your kitchen but love the look of inset cabinets, you might consider going with full overlay on your perimeter cabinets and drawers and selecting inset cabinets for your island, giving it the feel of a piece of furniture to make it the showpiece of your kitchen.
Inset Cabinets and Drawers in a Kitchen Remodel – Concealed Hinges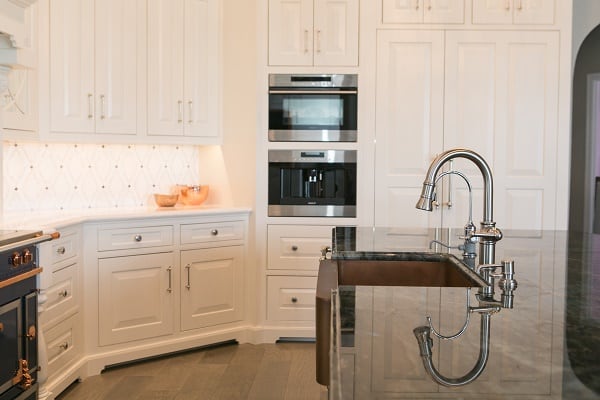 Inset Cabinets and Drawers in a Bathroom Remodel – Exposed Hinges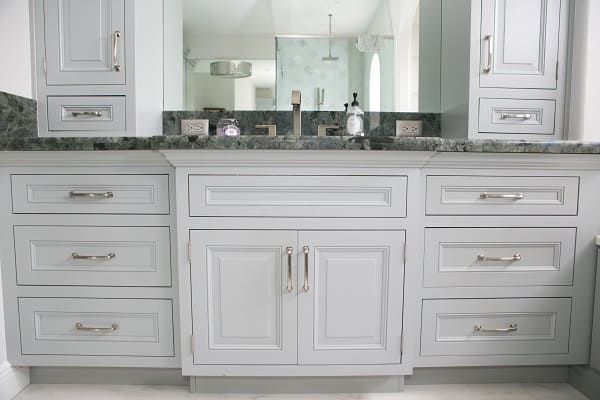 Would you like to learn more? Come to the KBF Design Gallery showroom to see all the choices in cabinetry as well as tile, flooring, fixtures, hardware and everything else that goes into remodeling the kitchen or bath of your dreams. Our showroom is open Monday through Friday from 8:30 am to 5:00 pm, and from 10:00 am to 3:00 pm on Saturday. Happy Remodeling!