We're thrilled to be featured in the January 2023 issue of Architectural Digest – read the full article below:
Excellence in Design: Central Florida
Remodeling Reimagined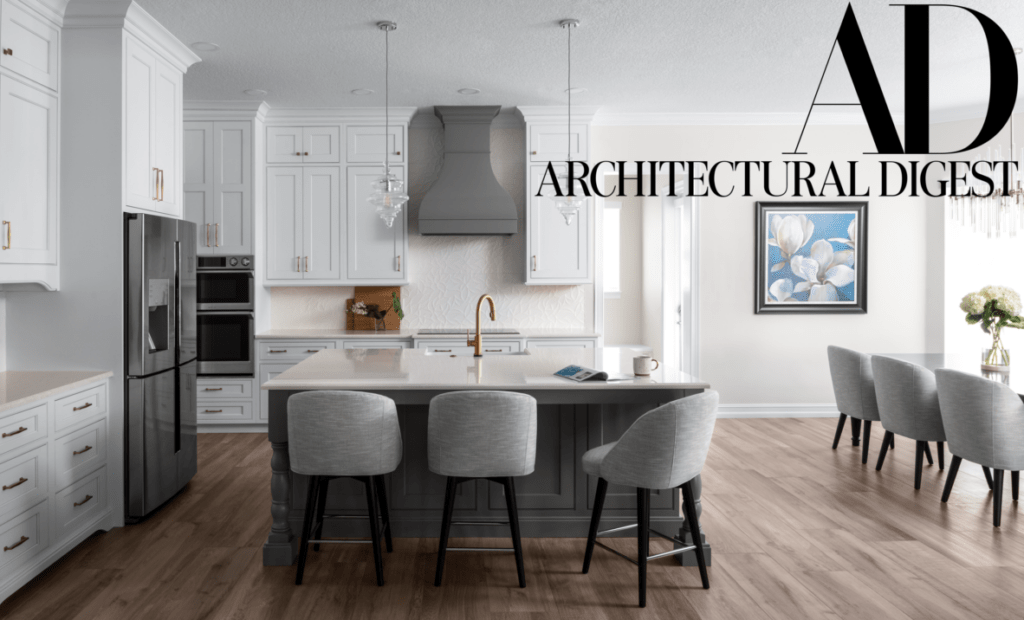 With talent and expertise, KBF Design Gallery transforms homes into custom-tailored havens."When you remodel, you get the opportunity to take a home you've lived in and know and tailor it to something that is perfectly suited to you," says Adam Vellequette, principal at KBF Design Gallery.
A family affair, KBF has been remodeling homes in the Orlando area for over 30 years. Today, Vellequette and sister/principal Ashley Sheaffer—who took over for their father and KBF founder, Keith, in 2020—are continuing the firm's storied legacy by building upon foundational tenets of a curated culture and top-tier service.           
"We've evolved our approach over the years to focus the unique talents of each of our designers on the facets of design where they excel most," explains Sheaffer, noting KBF's designated specialists in space planning, engineering, and more. "That allows us to collaborate as a team on everything."
Through collaboration among design and installation team members, the firm has cultivated a streamlined process that leads to cohesive, thoughtfully-crafted, custom spaces. Walking with clients through every step of the journey and forging lasting relationships that reveal the unique needs of each family are integral to KBF's personalized process.
"Using our clients' inspiration while stretching the traditional boundaries of design, we're able to achieve a balanced aesthetic that is beyond what they could have imagined in their homes" says Sheaffer.
"Our passion," adds Vellequette, "is reinforced when we see clients' reactions to how we've taken something that they're going to live in every single day and reminagined it into something that is uniquely theirs