Are you trying to decide between real wood flooring or wood-look vinyl for  your home? Watch our video where we compare the two (or read a synopsis below) to help you make the best decision for your home and your lifestyle. 
Wood vs Vinyl Flooring
Luxury Vinyl Planks (also known as LVP) are a very popular alternative to wood flooring. The goal for any flooring, whether you choose wood or wood-look, should be to make it look as natural as possible. When selecting the flooring for your home, there are three key factors to consider: durability, cost, and look. Let's start off by comparing the durability of real wood versus the maintenance of luxury vinyl.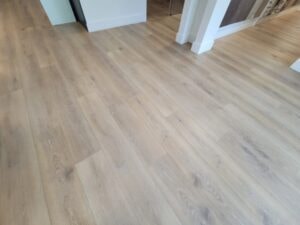 Photo: Luxury vinyl
Durability
If you're like many of our clients who grew up with wood floors and remember the days of resealing them with a thick coat of polyurethane to keep them looking new, and are opting for vinyl to avoid the maintenance associated with the wood floors… let's talk about the wood floors of today! Wood flooring now comes with a factory finish which is extremely durable and much longer lasting than the traditional "installer applied" finish, which means you can go years longer without needing to refinish them.
In our experience, matte/oil finishes, coupled with a hardwood species that has some natural graining (like an oak or hickory) are going to be durable enough to withstand most of what life throws your way. And selecting a wood floor finish with a bit of "chattering" or "wire brushing" has made it so that if a bit of surface scratching does happen on your floors, it's well disguised and adds to the character of the floor. And, as a failsafe, wood floors can always be sanded and refinished.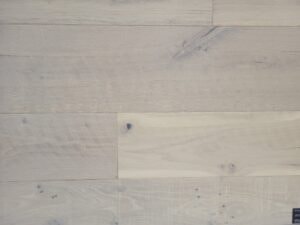 Photo: Chattering and wire brushing in wood flooring
The durability of luxury vinyl compares to that of wood flooring as a near equal in most areas, as vinyl flooring isn't immune to scuffing, chipping and cracking. Some of the durability issues with vinyl can be minimized with your product choice – generally speaking, a higher-end vinyl will be more durable than a low- or mid-range vinyl. The durability factor where vinyl flooring greatly outshines wood flooring is in vinyl's ability to resist moisture. Vinyl floors are virtually impervious to moisture damage, whereas hardwood floors will have to be completely replaced if they sustain major water damage.
Cost
Now that you're sufficiently torn between wood and wood-look vinyl, let's talk about COST. Vinyl is definitely less expensive, right? We find that many of our clients want the look of wood, but think they'll be able to save a lot of money by opting for vinyl instead. And this is almost always true – the cost of engineered hardwood is almost always more than luxury vinyl plank flooring.
Where you really save by choosing vinyl over wood is the cost of the installation. Wood flooring is more costly to install because you have to inherently demo the old flooring before installing the wood flooring. With vinyl this is not always the case – while it is the industry's best practice to demo your old flooring first, you can float vinyl over some existing surfaces.
Look
Okay, last up on the list is the look. Opinion time: here at KBF, if it's within our client's means, and with respect to cost and durability, we believe that nothing beats the real thing, so if we can do the real thing – real wood flooring – we will.  But luxury vinyl planks are an absolute contender because the technology in vinyl flooring has come so far. By incorporating varying grain patterns between planks and replicating the tones and sheens of wood flooring, the LUXURY vinyl flooring of today can absolutely pass for real wood.
We have a video where we compare real wood flooring with wood-look tile flooring, so watch that if you're interested in another alternative to real wood. And for your reference, we're based out of Florida, so when we talk about "real wood flooring" we're referring to engineered hardwood.
We hope this helps guide your decision between real wood and vinyl wood plank flooring for your home. Which will you choose for your home? Drop a comment below and let us know!