KITCHEN DESIGN AND REMODELING
From concept to completion, KBF Design Gallery can create the kitchen of your dreams. Our designers, project managers, and skilled tradesman work from the initial design to the final installation with one goal in mind – providing you with a finished space that will enhance your home and your life. We design your kitchen around you, incorporating your needs, your lifestyle, your design aesthetic and your vision for your home. All while increasing the value of your biggest investment – your home.
We know the best way to learn about you, your style, and your desired kitchen remodeling outcome is to meet with you in your home. Using technology, we can do this in person or virtually – it's up to you! During our visit, tell us why you want to remodel your kitchen, what you like and dislike about your current kitchen, and how you would like your new kitchen to function for you. Are you an aspiring chef who wants a cook's dream kitchen? Do you want to combine your kitchen with your family room to create the perfect entertaining space? Are you craving the storage that your current kitchen lacks? Tell us everything! We can also offer you our ideas and design solutions based on our experience. Then, based on our discussion and your wish list, we can give you a parameter of cost for our services.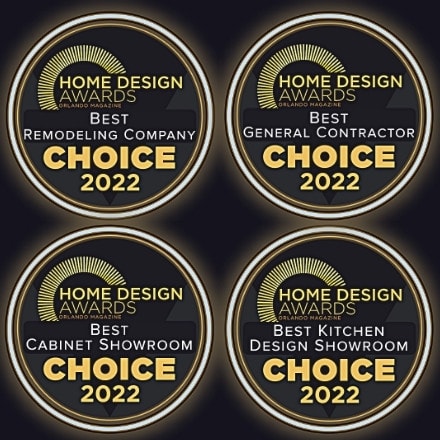 We're thrilled to learn that KBF has taken the top place in Orlando Magazine's 2022 Home Design Awards in four categories! KBF was named number one in the Best Remodeling Company, Best General Contractor, Best Cabinetry Showroom and Best Kitchen Design Showroom categories! We also took the second spot as the Best Granite, Quartz and Marble Showroom. Thanks to the public for voting for us and supporting us in this way. It's an absolute honor to have our team's dedication to their work recognized in this way.
From design rendering to reality – you can see what your remodeled space will look like early in our design process, helping you make informed decisions during the review phase and giving you a beautiful preview of what to expect as construction progresses and the vision is brought to life!

These slides show a kitchen in the 2D rendering that was presented to our client during the design review phase, followed by the actual picture of their newly remodeled kitchen. We also use the best 3D rendering software to provide you with the most realistic views of your proposed design.