WE CAN BRING YOUR
DREAM TO LIFE
DISTINCTIVE DESIGNS CREATED
FOR YOUR HOME
MAXIMIZE YOUR HOME'S
DESIGN POTENTIAL
LET US SHOW YOU
WHAT'S POSSIBLE
DESIGNS THAT ENHANCE
THE WAY YOU LIVE
YOUR HOME SHOULD
REFLECT YOUR STYLE
KBF DESIGN GALLERY
REMODELING REIMAGINED
The kitchen will always be the heart of the home where family and friends gather. Today's kitchens are much more than a place where we simply cook and eat. The best kitchen design combines both function and style to meet all your needs. KBF can take your existing kitchen and transform it into a custom space designed around the way you live in your home.
KBF can create the perfect bathroom for your home, whether it's a master bathroom, kids' bathroom or guest bathroom. From the initial design through the final construction, we will handle every detail. Your newly designed bathroom will provide you with a retreat to enjoy while increasing the value of your biggest investment – your home. 
In addition to designing and remodeling kitchens and bathrooms, KBF also offers whole-home remodeling service. Our whole-home renovations result in the most beautiful homes in Central Florida, with custom plans and designs based on your dream for your home. As a Certified Residential Building Contractor, KBF can bring the vision for your home to life. 
In addition to complete Kitchen, Bathroom and Whole Home Design and Remodeling Service, KBF also offers Interior Design as well as full-service design-to-build Home Additions. Click the links to learn more.
KBF NAMED TOP REMODELING COMPANY IN CENTRAL FLORIDA
KBF has been named the number one Remodeling Company, the number one General Contractor, the number one Kitchen Design Showroom, and the number one Cabinet Showroom in Orlando Magazine's 2nd annual Orlando Home Design Awards. These awards recognize the top businesses in Central Florida's home design industry as chosen by the public. We are incredibly honored to be recognized in these categories among such an established and respected group of industry professionals. We're so thankful to our Central Florida community for your votes and your support. 
CUSTOM DESIGN AND REMODELING SERVICE
Since its inception almost 20 years ago, KBF has earned a reputation as the trusted leader in interior design and remodeling in Central Florida. Our family-owned and operated business welcomes clients at our design showroom located in Maitland (1295 South Orlando Avenue, across from The Enzian Theater and Park Maitland School). The award-winning showroom provides thousands of square feet of design inspiration, all to help us create the perfect space for you in your home. The entire KBF team wants to exceed all your expectations – from your experience in our showroom to the design we create for you, from the way we communicate with you during the process through every step of the installation that leads to your newly-remodeled home – we want you to be absolutely thrilled with your experience with us. 
Call 407-830-7703 to schedule your complimentary consultation.
Learn more about KBF's comprehensive Design-to-Build service in this short video: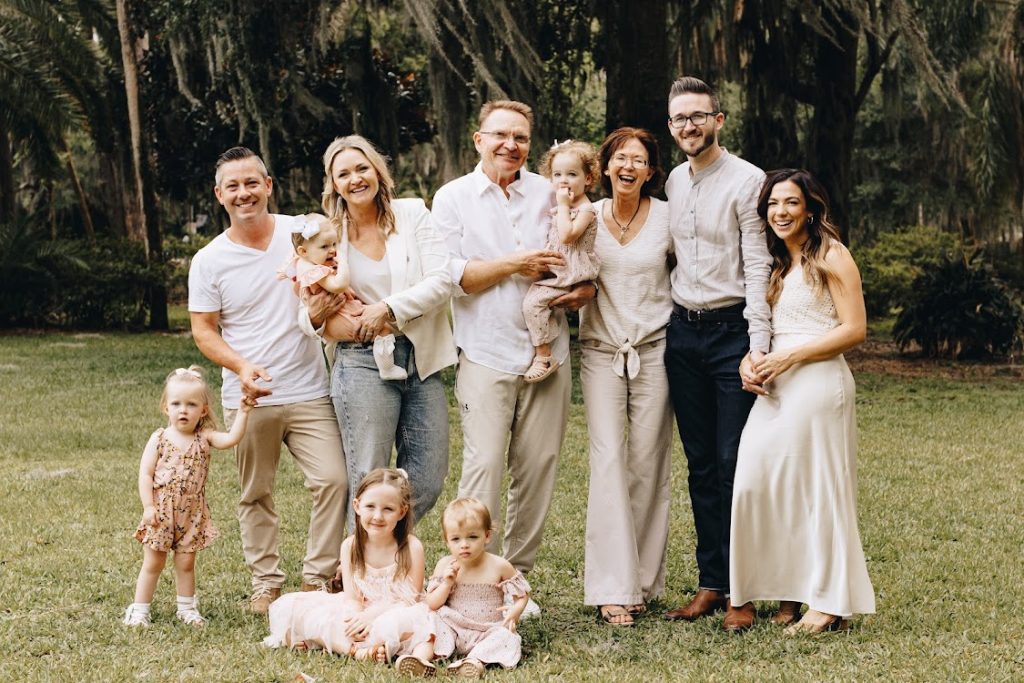 A True Family Business
At the heart of KBF is the Vellequette Family: Keith and Melissa Vellequette, and their daughter and son, Ashley and Adam. Keith founded KBF Design Gallery in 2003 after years of working in remodeling. Wanting to provide clients with a company that could furnish design, quality installation, and every part and piece of their remodel, he designed and created the KBF showroom as a "One-Stop-Shop" for home remodeling. Since then, his wife and children have joined him in every aspect of the business and it has grown into one of Central Florida's top design and remodeling firms. After working alongside their dad for many years, Adam and Ashley and have taken the helm since Keith's retirement in 2019, with Ashley leading the sales and design team and Adam managing field operations.
I want to thank you for the excellent job you did designing my kitchen and two bathrooms, and for being on top of everything. Thanks to the office crew, who were always so helpful and kind when I asked questions. And, not forgetting all of the wonderful workers you sent to do the job. They all did such a great job and always went out of their way to please me. I will never forget them. I hope I didn't leave anyone out, but I certainly appreciate all they have done to make my kitchen and bathrooms so beautiful. Come and stop in any time to see the kitchen and bathrooms. God bless all of you. Keep up the good work.
-The Pavuks
It's been six months since our kitchen remodel and we want you to know that we are still amazed and loving it every day. It's perfect - exactly what we wanted and it speaks to our style. The entire KBF team are such professionals. It was a pleasure having this done by KBF. I'd absolutely have the team come back for another project and strongly recommend the team.
-The Coles
We're thrilled to share that KBF Design Gallery has received the 2022 Best of Houzz Design Award!
This award celebrates home professionals whose work was most popular among Houzz users in the past year, based on user engagement and photo saves. Awards like these are so meaningful to us because they reflect the growth and support of our online community.