The work continues on Leslye Gale and Ben Johnson's home remodel! After the initial demo, we completed all the structural work that was required due to the removal of two load-bearing walls. We also moved and upgraded all the necessary electrical and plumbing to accommodate their new kitchen, and of course all that needed to be inspected and approved before we could install the drywall and tounge-and-groove ceiling. Once the drywall and ceiling were in place, everything was painted and the floors were installed. Now are able to install the cabinets, and you can see that the new floorplan and kitchen are really coming to life! And not only are the cabinets absolutely gorgeous, they are also functional. Leslye has spice racks and a knife rack in the hidden lower cabinetry one both sides of the space for her new gas range, and her corner cabinet has pull-out shelving to give complete accessibility. We snapped some progress pictures while the cabinet installers were doing their thing, so pardon the tools!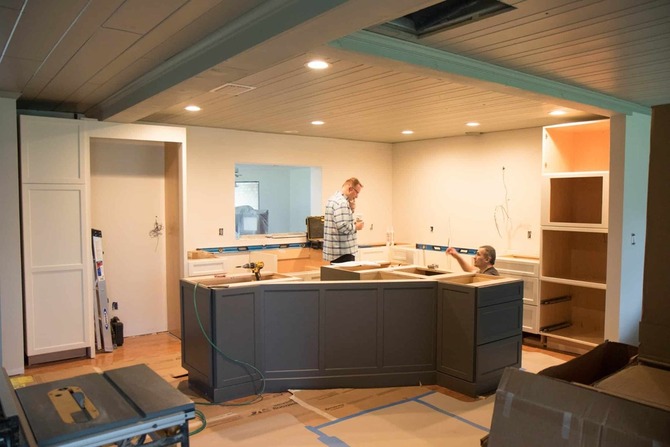 KBF's owner and lead designer, Keith Vellequette, speaks with one of the installers about the project.  The new center island (in the foreground) contrasts with the white perimeter cabinets in a deep but soft gray finish. 
The view looking straight back to where Leslye and Ben's new gas range will be installed.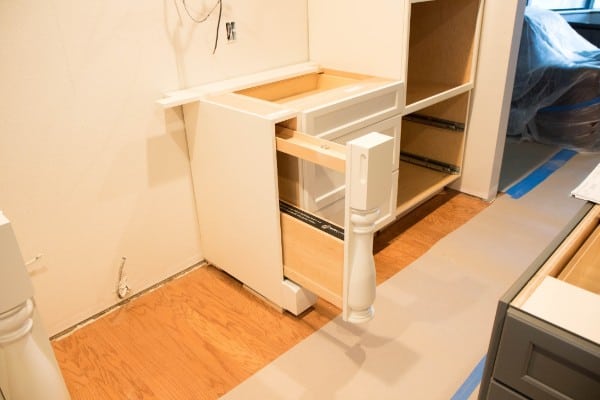 One of two pull-out spice racks/knife blocks that flank both sides of the space where the gas range will go.
The corner cabinet is no longer a "dead" space with shelves that pull out for maximum ease and storage.
Stay tuned for more pictures and updates, as the upper cabinetry, range hood, counter tops and appliances are next!