After serving the Central Florida community from our Altamonte Springs location for more than 15 years, we are thrilled to welcome you to our new location in Maitland! 
When visiting the new showroom, you are welcome to browse our kitchen and bathroom displays that are continually outfitted with the industry's most innovative features that include "living" bathroom greenery walls, silent kitchen sink faucets and galley kitchen workstations.
.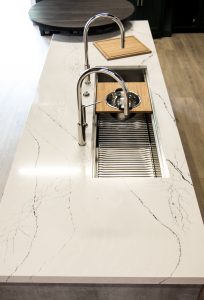 You can also explore the thousands of products displayed throughout the space such as high-quality cabinetry, tile, fixtures, stone countertops, flooring, hardware and so much more, all ranging from traditional to transitional and modern styles.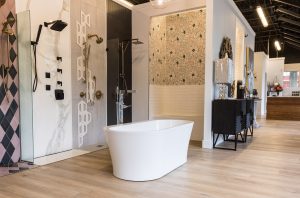 KBF sets itself apart in Central Florida's remodeling industry with our turnkey approach to making your design dreams come to life. Our team first meets with you (either in our showroom, in your home, or virtually) during a complimentary design consultation where we can learn more about your needs and wants for your home. From there, a member of our design team will take the ideas discussed in the consultation and collaborate with our larger team of experts to custom tailor a design that's creative, unique and personal to you and your home. We'll then present the design to you in both two- and three-dimensional renderings during a design review, where we collaborate with you to finalize all plans before construction begins.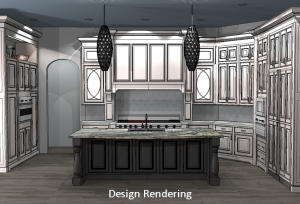 We know remodeling can be stressful and disruptive to your daily life, so we go the extra mile to ensure your construction timeline is as limited as possible. To give you peace of mind during throughout the process, we assign a personal field supervisor who leads the crew of installers during each phase of your project. Throughout the project, KBF will handle every detail — from ensuring the delivery of products, managing the installation and overseeing final touches.
The Family Behind KBF
Keith Vellequette founded KBF in 2003 after years of working in remodeling. Wanting to provide clients with a company that could handle design, quality installation and every part and piece of their remodel, he designed and created the KBF showroom as a "one-stop-shop" for home remodeling in Orlando and all the surrounding areas. Keith has recently retired, and his adult children, 32-year-old Ashley Sheaffer and 29-year-old Adam Vellequette, have been named principals of the company.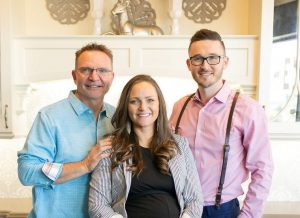 Both Adam and Ashley have been part of the business since the beginning — Adam started at age 16 doing demolition in the field, while Ashley built her career foundation in-house working alongside KBF's designers. In their new roles, Adam manages field operations and Ashley oversees the showroom staff leading sales and design. 
"My sister and I have been immersed in every aspect of the remodeling business since we were teenagers," said Adam Vellequette. "Over the last year, we have thoughtfully and strategically planned every detail of what this new showroom should offer our community. As the new generation of leadership, we hope our new space is seen as a destination that not only sparks inspiration for those toying with the idea of a remodel, but also continues to be a trusted source for design expertise and project management for our loyal repeat customers."
"We understand remodeling your home can be an overwhelming thought — from deciding on a visually appealing, yet functional, design to choosing a color scheme and style you'll love for years to come," says Ashley, "We support you with an entire team, including in-house designers and field project managers, who are passionate about taking the guesswork out of remodeling and delivering results that exceed your expectations."
KBF is located at 1295 South Orlando Avenue (across from The Enzian Theater).
We are open Monday through Friday from 8:30 a.m. to 5 p.m. and Saturdays from 10 a.m. to 3 p.m.
To schedule an appointment or speak with a designer, please call 407-830-7703.